The festivity of Navratri is still reeling in our minds and we are just getting over our hangover of late-night Garba's that we are already gearing up for the upcoming festival. Yes, we are soon approaching the most awaited festival of the season, Diwali the festival of light.
The gold lit colourful lamps, the artistic lanterns, the beautiful rangolis, the range of flowerpots, sparklers and crackers and a display of sweets and savouries is a perfect picture we sketch in our minds when we talk about Diwali. It would be one of the festivals where you need not fast but simply feast.
The Diwali celebrations occur over a period of five days and include numerous traditions, activities, and, yes, tasty treats. When we talk about tasty treats it is true that food plays a very important role in all celebrations. Sweets and fried snacks are an integral part of any Indian festival. In fact, preparing these dishes turn out to be the highlight of every festival.
Some of the traditional snacks still made at homes  are:
Try out this homemade chat to munch on in the evening with everyone. Make paper cones fill them and enjoy it with the fireworks on the roof.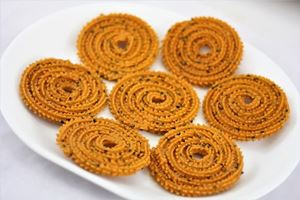 A popular South Indian snack made with the goodness of rice flour. It is commonly known as 'chakli' in the Northern areas of India. The most versatile snack can be prepared in any style, it is just tasty and crunchy. There are ultimate variations in making this.
A crunchy and tasty delight and surprisingly good for you, they are a must-have! While these crackers are traditionally fried, you can bake it for a healthier alternative.
Snacks that go along all season. Add a little crunch to your Diwali snack with these uber healthy and totally crunchy masala chickpeas.
Moongdal Ghughra
The ultimate flaky puffed snack can be a little bit sweet, sour or spicy with its moong dal filling. Also called as Karanjee or Gujiya with sweet filling of Rava, dry fruits, and copra. The list is endless
Ribbon Pakoda
Dry fruit kachori
Poha Chevda
Baked Chevdo
Farsi puri or Crispy methi puri
Sweet potato wafers
But all these need preparation well in advance but if you are busy and can't find the time, don't be disheartened. Be assured you can enjoy all this and more if you shop at our online JustHaat store. Some of the products on our shelf which you would love to try on are:
Pani Puri 
Chakri 
Cookies 
Haldiram's frozen family pack (Aloo Tikki, Samosa)
Haldirams Namkeen Mathri, dry kachori, Tasty nuts, Muruku, soya sticks, moong dal, chana dal, etc.
Cornflakes mixture
Jaimen soya stick onion
Channa nuts and many more
We can almost feel the Diwali madness coming as we go through this list! Can you? If yes then we are here to keep those taste buds at rest cause we have it all. Just find our products in our online grocery store at justhaat.com and place your order right now. We have a range of Diwali gift hampers and offers as well to make your Diwali special. Please check-in online for further details.
With gleam of Diyas and mouthful of tasty treats, may happiness and contentment, fill your life this Diwali. Wishing all of you from all of us at justhaat.com "A very happy and prosperous Diwali"