Here comes the much-awaited fruit of the year: Mango the exquisite gift of nature! It's summer season and we all wait for it throughout the year only for three things - Mangoes, Mangoes and Mangoes. And why not? After all, it's the season of the king of fruits, the Mango. Mango season is enjoyed by each and every one of us and the reason is quite obvious because it is one of the most delightful, sweetest and refreshing fruit. Not to further make you all wait for the mangoes, we are here with the best quality of Indian Mangoes for our beloved JustHaat family members.
Even though the scorching and blazing sun gives so much discomfort with unbearable sweltering heat during the summers, also there are few things we can boast about in this season; there are perks and goodies to share and at the end of the day it is all about mangoes! Let us gather more information and get to know more about this amazing fruit.
Mangoes are grown in most of the parts of India and are also termed as the "Food of the Gods" in Vedas as per the sacred Hindu texts. It is available in all variations of colours, varieties, sizes and shapes and all are equally delicious and nutritious. If calculated, there are more than 100 varieties of mangoes with a wide range of colours like green, reddish-yellow, greenish-red, yellow, orange and many other dominant colours.
Mangoes are not only delicious but they have high nutritional benefits too. Mangoes are packed with vitamins, minerals and enzymes that are beneficial for health. And that's not it, mangoes are a rich source of fibre and antioxidants too. All these nutrients add great benefits to our health.
Mangoes are available in different varieties. Here are some of the well known and most loved varieties of mango across the world.
Alphonso mango popularly known in Western India as 'Hapus', is one of the most liked mangoes in the world. These mangoes have a nice delicate sweet flavour and are non-fibrous. The pulp of alphonso mango is saffron coloured and is very juicy and tender in texture. The skin of fully ripe alphonso mango is bright yellow in colour with a tinge of red colour at the top. With perfect sweetness and texture, Alphonso mango is sure to please you.
Also known as the Queen of mangoes, Kesar is one of the beautiful looking mangoes that derives its name from the colour Kesari. This mango is known for its exquisite taste, aroma and bright orange coloured pulp. This popular fruit usually comes in medium to large sizes and oblong shape. The bright orange colour pulp and superb sweet taste of the Kesar mango will make your taste buds dance in joy and happiness.
Dasheri is one of the popular Indian mangoes from the north of India. It got its name from a village named Dasheri in Malihabad, Uttar Pradesh. Dasheri mango is long and oval-shaped with non-fibrous peached coloured flesh. These mangoes are light green in colour and become golden yellow in colour once ripe. Dasheri mangoes are very sweet and aromatic. Indulge yourself in the sweet taste of Dasheri Mango and relish!
Badami Mangoes are one of the most loved mangoes in India. Badami mangoes are also known as the Alphonso mangoes of Karnataka state of India. It is pale yellow in colour and has thin skin and a super soft texture. These mangoes arrive slightly earlier in the season than the other varieties of mangoes. If you are a mango lover, and cannot wait much than Badami mangoes are definitely for you.
Langra mangoes are primarily from Varanasi, the city on the banks of the river Ganga, in Uttar Pradesh, India. These mangoes are medium in size and are oval in shape. One of the unique features of Langra mango is, it's skin colour stays green even after it is ripe. This mango has bright lemon-yellow coloured flesh and has a strong smell once it is ripe. Langra mango is super juicy and flavoursome, a must-try mango for mango lovers!
Mangoes are abundant in all the regions of India and they are known by various names. Some of the common names in the country are Himayath, Pedda Rasalu, Langra, Kesar, Chainsa, Malgova, Alphonso, Chinna Rasalu, Bombay green, Vanraj, Zardala, Chappota, Lalbagh, Banganapalli, Mallika, Pairi, Neelum, Aamrpali.
People in India don't just eat mangoes as fruit but they eat mangoes as food. Raw or Ripe, Indian kitchen uses mango in every form. Whether it is pickles, murabba, mango shake, aam ras, aam papad, mango lassi, mango sweets or just as a fruit, mango is enjoyed in every delicacy in India.
We have brought some of the most famous and delicious recipes to enjoy during this mango season:
(Source & Recipe: Indian Mango Lassi)
Mango Lassi is a super delicious drink made with fresh ripe mangoes, yoghurt and garnished with saffron strands, almonds and pistachio. Mango lassi is a perfect drink to beat the summer heat. It's healthy, tasty, filling and a soothing drink for summers. Alphonso and Kesar mangoes are mostly used for mango lassi preparations.
(Source & Recipe: Mango Kulfi)
Mango kulfi is an amazing Indian frozen dessert that is rich, nutty, creamy and simply delicious in taste. It is usually prepared by all Indian families during mango season to beat the scorching heat. It is made with fresh ripe mangoes, whole milk and dry fruits. It's a perfect dessert for summers and we are sure it will make your taste buds dance in the goodness of its flavour.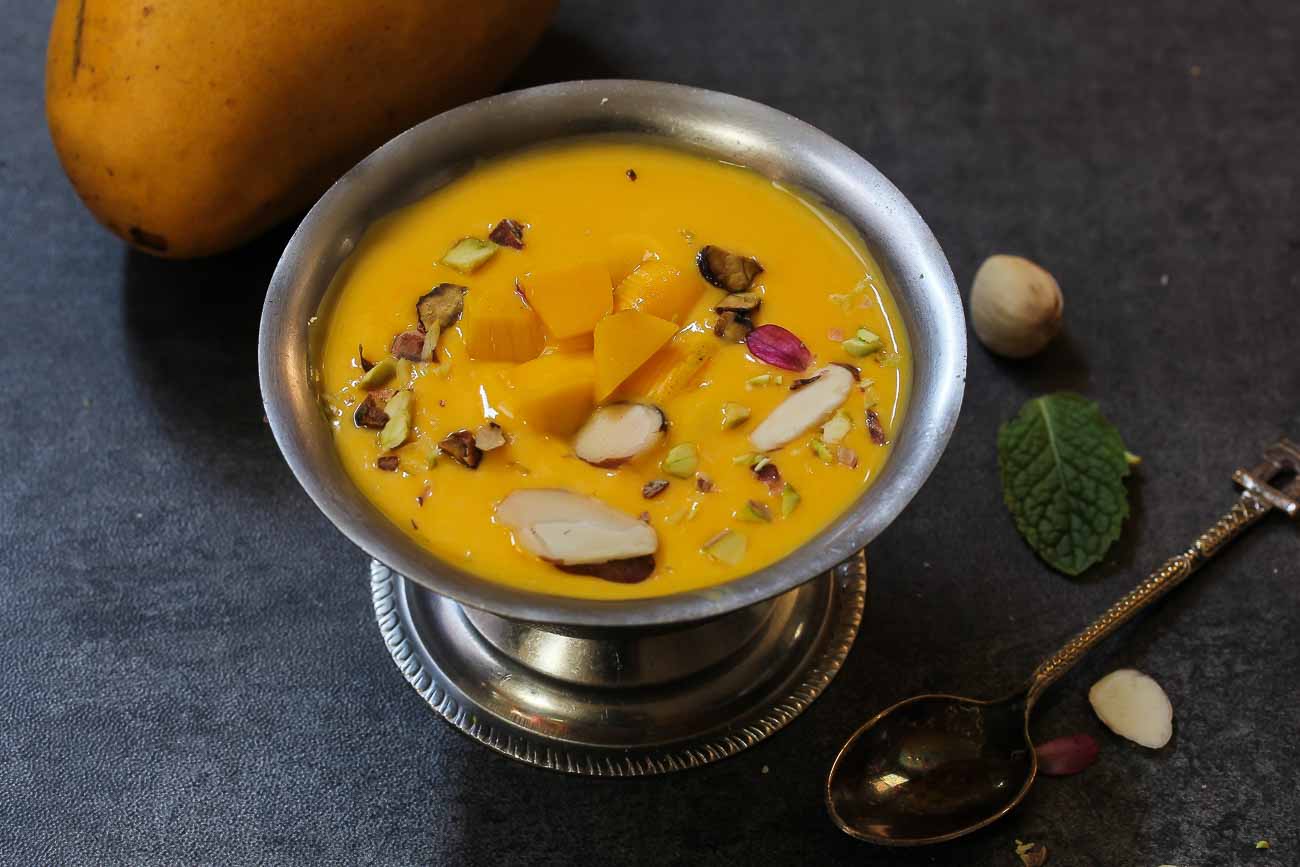 (Source & Recipe: Mango Phirni)
Phirni is an extremely popular North Indian dessert. Mango Phirni is a variation of the classic traditional Phirni. It is made with full cream milk, rice, sugar, dry fruits and fresh mangoes as the main ingredients. Mango Phirni is just like a rice pudding but with a twist of mangoes. It is an ideal dessert for the summers.
(Source & Recipe: Aam Ka Panna)
Aam Panna is a most famous summer coolant made with raw mangoes pulp, mint leaves, sugar and spices. It is a natural coolant that keeps the body well hydrated and helps in battling the scorching heat. It is the most refreshing drink to keep yourself super cool during hot summer days.
(Source & Recipe: Mango Milkshake with Cardamon)
Mango milkshake is the perfect, simplest yet the most tempting fruit drink one can have during the hot summer days. It is a quick and super easy drink, prepared with fresh ripe mango pulp, full cream milk and topped with vanilla ice cream. Indulge your taste buds into this delicious fruit drink.
So by now, you have enough to celebrate this mango season. Summer is the official time for delicious mangoes and Justhaat is here to serve you with the best Indian mangoes. With perfect sweetness, texture and taste, our mangoes are sure to soothe your soul while pampering your taste buds. So, enjoy this mango season to the fullest and relish!
Until next time stay healthy, stay happy, enjoy summer, enjoy mangoes!
Lots of love,