On this auspicious occasion, we wish you a very prosperous and happy Eid.  On this Eid, we are here with a surprise for you and we are sure that you will like it.
After reading the title you must be having a good idea of what we are going to write about in today's blog. You guessed it right, the Nawab of all the dishes "BIRIYANI"! Biriyani is a world's renowned dish that makes everyone crave for it. Steamed with authentic spices, meat, and some magnificent herbs the aroma and taste of Biriyani are what makes it so special and popular among people.
Biriyani was introduced by Hyderabadi Nizams and it was termed as so divine that the soldiers who fought a battle and won were presented Biriyani as a reward to them. Biriyani tastes different in every state of India and that is primarily because of the preparation procedure. Biriyani primarily has two types of styles of cooking named Pukka and Kutchi. The Pukka style is famous for cooking the meat and rice together and the Kutchi style is famous for cooking them separately. Biriyani is one of the most loved cuisines of the country and it is most famous in Hyderabad, Lucknow, Dindigul, and Kolkata.
We are very sure that you want to excite your guests with the perfect Biriyani and we want you to totally focus on the festival and we will cover you in terms of the dish you are going to make. You can get the most efficient deal at JustHaat.com and you can get the best quality products here. Be it long aromatic Basmati rice or the most fragrant spices we have everything you need and we are always happy to help.
Almost every city of India has different kinds of Biriyanis and the preparation procedure is also different. We are going to cover the best 7 Biriyanis of India and we will tell you that how are they unique. So let's take a look at the most popular and tasty Biriyanis of the country which are served on Eid. And in case you are not able to decide what you are going to prepare for this Eid then take a look at this recipe of Murgh Noormahal Biriyani from Sanjeev Kapoor.
(Source & Recipe: Easy Hyderabadi chicken biryani)
Also known as the Biriyani of Nawabs, this Biriyani always gets the first position when it comes to ranking the biriyanis. Actually, Dum Biriyani is one category itself and Hyderabadi Dum Biriyani is the cuisine that is prepared with the same process as Dum Biriyanis. Now after roaming through those aromas of exotic foods during the night in Ramadan you must be totally prepared for the Biriyani at Eid and if you are in Hyderabad then you must have this exotic dish and don't forget to take Mirchi ka Salan with it.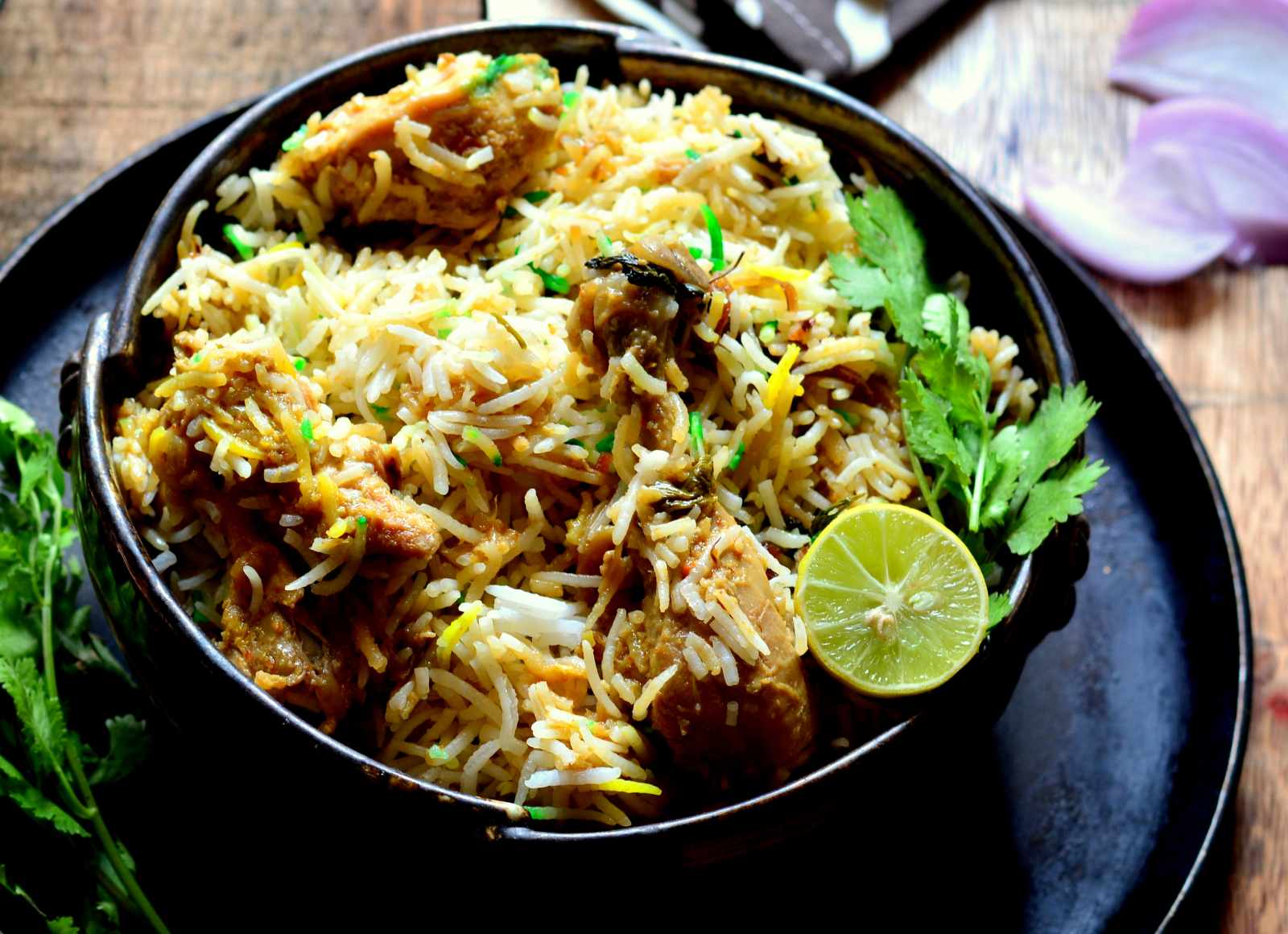 (Source & Recipe: Lucknowi Murgh Biryani)
This Temptation of Mughals comes from the land of Nawabs. It's true that the aroma of Lucknow blends the poetic finesse but at night you can also feel a blend of fragrant basmati rice mixed with the cherishing aroma of meat and the authentic spices. The rice is cooked separately from the spices and the marinated chicken blended with spices is mixed later. You will become irresistible when you will see that local Awadhi style of cooking in preparation of Biriyani. 
 (Source & Recipe: Kolkatta Biriyani)
The last Nawab of Awadh Wajid Ali Shah introduced Biriyani in Kolkata in the mid-19th century. He brought along his personal chef all the way from Ayodhya and the chef made the Lucknowi Biriyani there and slowly evolved into the style of Kolkata and later it became the Kolkata Biriyani. The Kolkata Biriyani is prepared with meat, eggs, and potatoes; nutmeg, cinnamon, clove, and some other aromatic spices are used as spices.
(Source & Recipe: Malabar Chicken Biriyani)
Made in the land of spices, this Malabar Biriyani is one of the most common and popular dishes of Kerala. This biriyani is one of the most fragmented Biriyani in the country as it is served on a banana leaf. To make the recipe more interesting the coconut is also added and the authentic spices of Kerala have always been mouth-watering. 
(Source & Recipe: Mughlai Mutton Biriyani)
This Biriyani was originated from the Shahi bawarchi-khanas of the Mughal Emperors. This biriyani is a perfect blend of the most traditional and conventional way of cooking. This biriyani includes some of the most aromatic spices that are the trademarks of Mughlai food. If you are in a mood to eat heavy then this Biriyani is always good to go.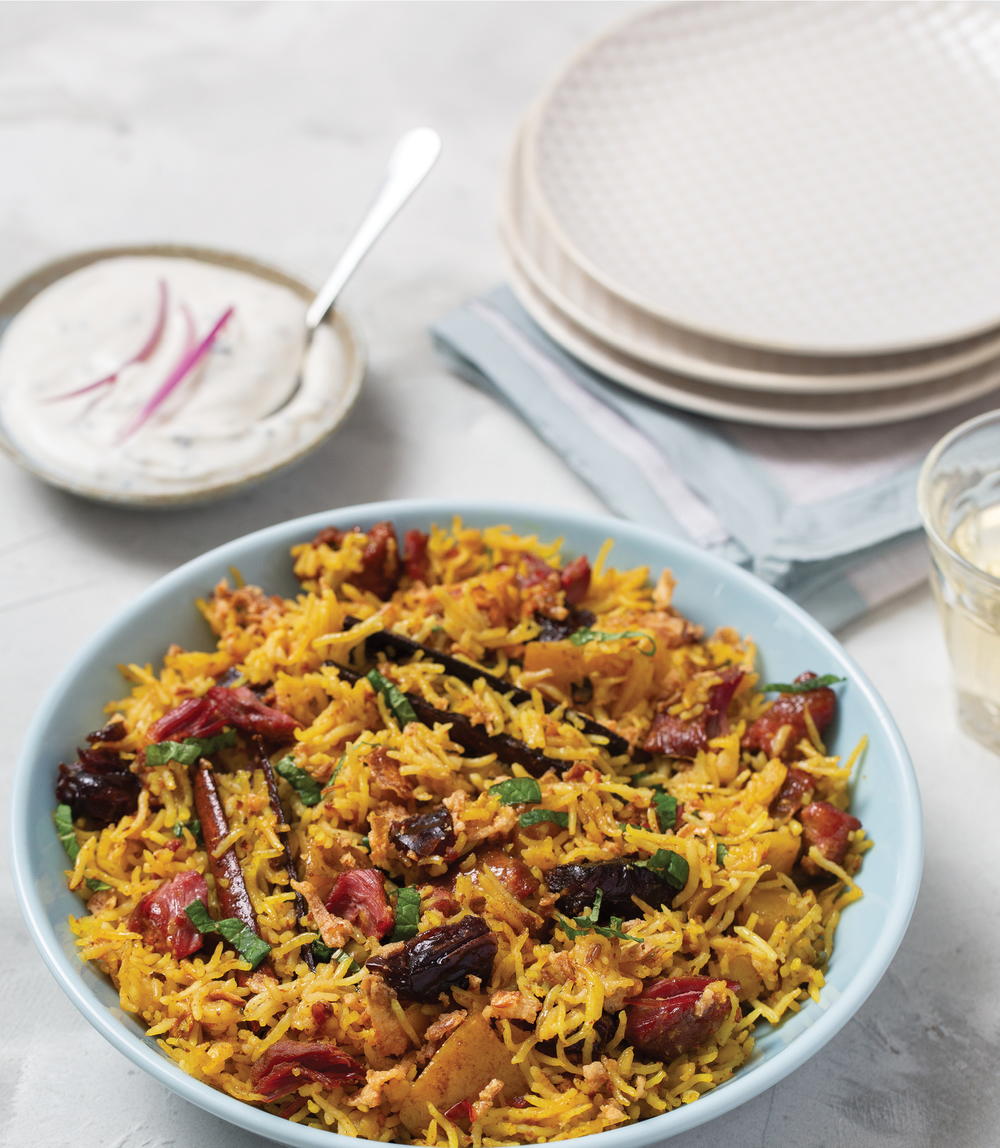 (Source & Recipe: Sindhi Biriyani)
Sindh is not a part of India anymore but the Sindhi Biriyani has always been in our culture and it will remain in it forever. You can easily recognize a Sindhi Biriyani by looking at the finely slit chillies, mint, and cilantro. These ingredients not only work on the aesthetics of the dish but also on the taste and mesmerizing aroma. Sindhi Biriyani is garnished with exotic dry fruits and onion rings. it is a jampacked combo of looks, aroma and taste.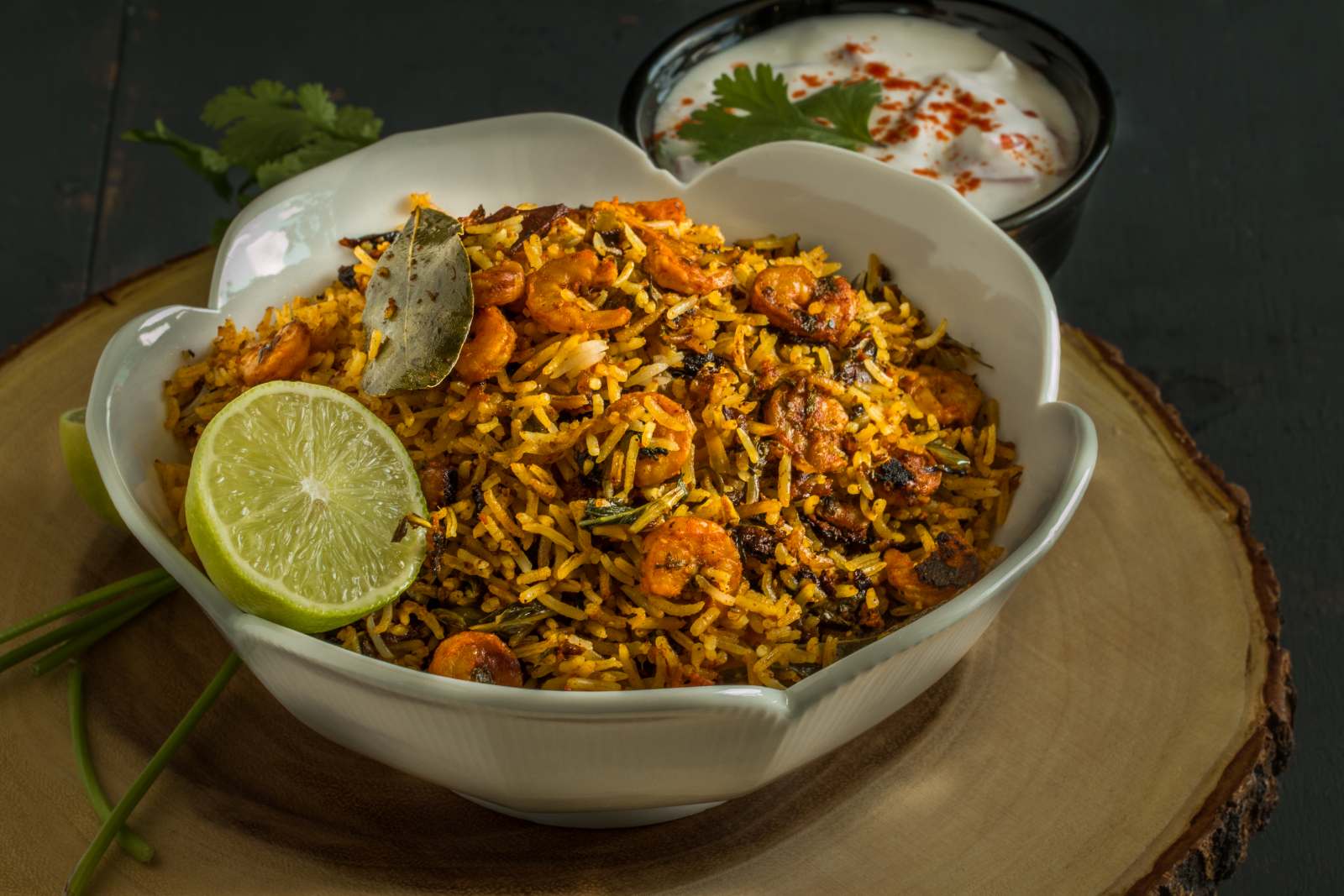 (Source & Recipe: Prawn Biriyani)
Who doesn't like prawns? Let's get into aquatics and feel the taste of sea while tasting the Nawabi Dish. Prawn Biriyani is one great combination of taste, spices and protein too. On Eid this tasty dish is most popular in the coastal areas of the country and we are sure that your taste buds need to explore it.
Prepared with Long grain fragrant Basmati rice and the authentic spices from JustHaat.com makes a Biriyani mouth-watering and with a closing note we just want to tell you that we are going to have a treat of Biriyani today for sure! What about you?

Isn't your mouth watering after reading this? Trust me, our taste buds are dancing with joy even after writing this. We hope that this content helped you and may this Eid brings a lot of happiness to your life.